D.I.D Motorcycle Chains


UNCOMPROMISED QUALITY POWERED BY TECHNOLOGY SINCE 1933
D.I.D drive chains are manufactured in Japan and supplied through dealers worldwide. Their top-quality products are made by skilled technicians with the goal of perfection and to provide outstanding performance for all riders. This focus on uncompromising quality has made D.I.D the World's #1 original parts supplier for Japanese and European motorcycle manufacturers.
DOWNLOAD - DID CHAIN SPECIFICATIONS (PDF)
520ERVT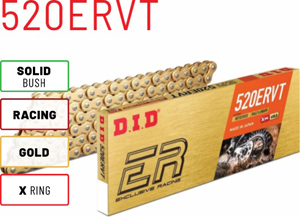 Racing Boss
The 520ERVT is designed as D.I.D's top-of-the-line enduro chain, but it's strength, lightweight, and extended chain life makes it an ultimate racing chain.
X-Ring Technology
Born from our original non-o-ring motocross chain, the ERVT boasts our patented X-Ring technology which provides less stretch, a higher tensile strength, and ultimately a longer lasting chain.
Strong, Yet Light
This is D.I.D's lightest and longest lasting X-Ring chain in the 520 size.
415ERZ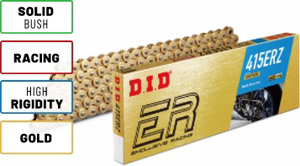 Built For Road Racing
The 415ERZ chain is a road racing chain specifically for Moto3 Regulations.
Small Bike Big Performance
Our 415ERZ can accomodate matching sized bikes with up to 250cc's of power.
Less Weight
Perfect size chain for your track bike to help you save on weight.
420 428 525 NZ & 420 NZ3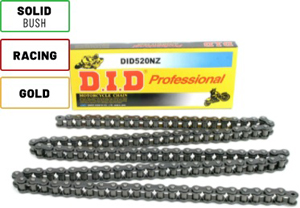 Designed For Jr. Champions
Our NZ Series is designed for mini champions and vintage bikes alike.
Multiple Colors
The NZ series chains are available in standard and gold & black (G&B) colors.
Multi-Use Chains
This is a great all-around non-sealed chain.
420 VO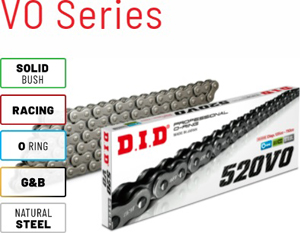 D.I.D Quality
Our Professional Series O-Ring chains have quad-stake riveted pins with solid bushings to give you that D.I.D strength.
Best Value
O-Ring sealed chains give you up to a 25% longer chain life compared to a standard chain because of its lubrication sealing properties.
Multiple Applications
Applicable for street and off-road bikes and ATV's up to 1200cc.
520 525 530 VX and VX3 Series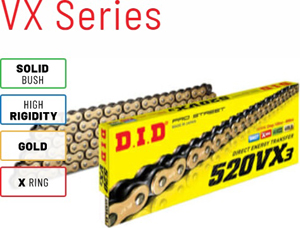 Superior Strength
D.I.D's #1 VX Series includes the 428VX, 520VX3, 525VX3, and 530VX3 chains to for numerous street and off road motorcycles from 350cc to 1100cc.
Longer Wear Life
Boasts a much longer chain life than the VO Series due to the patented X-Ring technology. The 520VX3 has a 32% longer chain life than the 520VO and the 525 and 530VX3 has a 41% longer chain life.
Patented X-Ring
The VX chain series showcases the industry-leading, patented X-Ring seal technology, which leads to extended chain life, minimal friction, and overall amazing performance.
ZVM-X Series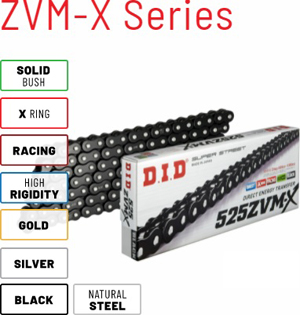 Superbike Strength
D.I.D's ZVM-X Series has greater strength than the VX Series and is designed for heavyweight motorcycles with Tremendous Torque and Horsepower.
Longest Wear Life
The twisting action of the X-Ring® increases its sealing performance and its four contact points minimize power loss.
Quicker Response
The ZVM-X Series' Direct Energy Transfer, born from our experience in MotoGP, means greater stretch resistance under load.