OUR SPONSORED RIDERS
Author: Sarah @ MetalGear



DK FREESTYLE Damien Kennedy
Originating from Ireland, Damien started riding at 21 years old on a Honda CBR250RR. He entered into the Irish Stunt scene in 2010 and purchased an ex track Kawasaki Ninja ZX-6R to build into a stuntbike.
Damien competed in competitions around Ireland and Europe in addition to creating the highly successful Irish Freestyle Stunt Series in 2013. In 2016 he sold everything he had and built in Ireland before migrating to Australia. It would be a number of months before Damien entered into the Australia stuntbike scene, landing his first big show at the Brisbane Showgrounds for the Hoglights Bike Show. In 2019, DK Freestyle was born.
Damien is passionate about providing high energy stunt shows, having performed all over Queensland and New South Wales. He hopes to work with local councils to show the public that stuntbike riding isn't the same and typical hoon behaviour.
Current machines: 2004 Kawasaki ZX6-R & 2005 Suzuki GSX-R 1000
W: www.dkfreestyle.com Follow: www.facebook.com/DKFreestyleAus www.instagram.com/dkfreestyleaus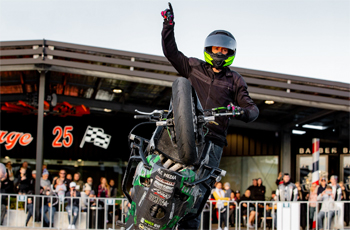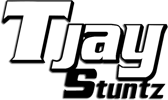 TJAY STUNTZ Tjay Petera
Tjay's bike obsession began at 17 when a friend let him take his Honda CBR250RR for a ride. Tjay had never touched a street bike before but from then on, he was hooked. His first bike would be a 1992 Suzuki GSX250F Across later moving to a 1986 Suzuki GSX-R1100.
In 2010 he found himself among a few guys doing wheelies and wanted in on the action. Before too long he realised all the best riders were on 600cc sports bikes. It only made sense to follow along so he bought a Honda CBR600F4i and started practicing.
Soon after TJay met Stuntz Inc team rider Allan Morrison who would introduce him to what stunt riding REALLY is. Within 12 months he was on track at Phillip Island Supercars with Allan and team owner Matt Mingay, trying to throw down his best tricks.
Over the next 10 years Tjay would become a team member of the Hot Wheelz Stunt Team and travel all over Australia with them and many other talented riders performing stunt shows on his on his Harley-Davidson 1200 Sportster.
Currently machine: 2014 Harley-Davidson 1200 Sportster
Follow: www.instagram.com/tjaystuntz www.youtube.com/c/TjayStuntz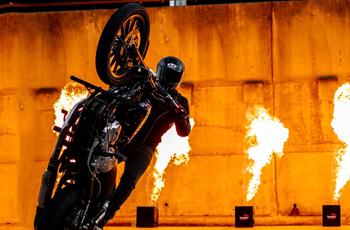 ---
Leave a comment